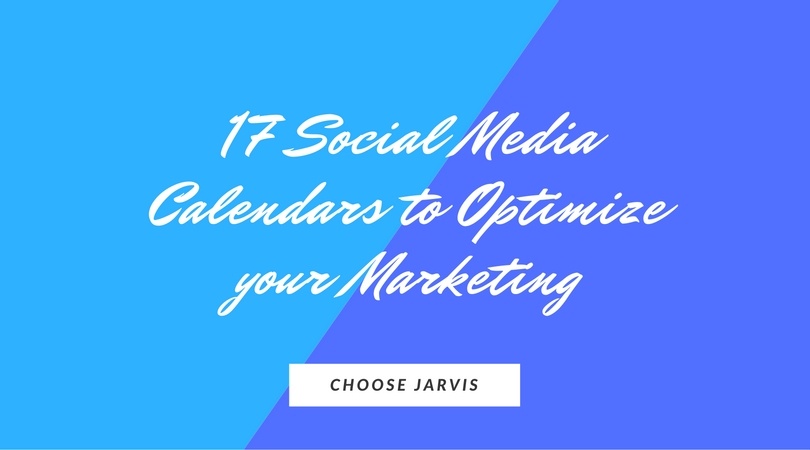 17 Social Media Calendars to Optimize your Marketing
What goes through your mind when you sit down to post something to your business profiles?
You want to promote some of your products or services to attract customers?
You want to share your latest blog post and get your target audience on the blog?
You want to share something interesting or helpful with your followers?
These are just some options that you may consider as a business.
However, you cannot post promotional content all the time because it will start to look like spam and your organic reach and number of followers will start to drop.
Sharing too many links or articles from the web will irritate the followers who are not interested in such stuff.
Sharing interesting stuff might bring some likes and shares but it will not convert into lead or sales for your business.
The ideal approach is to mix all these types and for that, you need a social media calendar that shows what to post, when to post, and where to post?
Social media calendar will ensure that you do not post too much of either of these types and ignore everything else. It can be a weekly schedule that details different types of posts for different days or a monthly calendar that specifies the post for the entire month.
Using a calendar allows you to schedule posts for a week or two and you can also use it as a reference point to direct your VA or social media manager.
We've compiled this list of 17 social media calendar templates to get you started.
Pick one that is closest to what you have in mind, make changes according to your goals and objectives, and use in your social media campaign.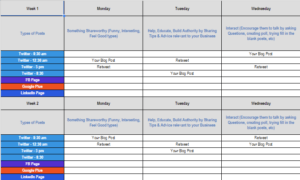 1. Social Media Calendar for Small Businesses by Jarvis:
The majority of social media calendars or templates on the web are quite complex and advanced.
Most small and local businesses don't really have the time and resources to conduct webinars or produce videos on a regular basis.
You can take a simple approach with a focus on trust and relationship building.
Similarly, you don't need to plan for the entire year in advance. It's better to plan for a month of two, analyze the results, and then plan accordingly.
That is why we've created a simple template that is intended for small businesses.
It's simple yet effective because it focuses on engagement, interaction, and allows you to promote your business once or twice in a week.
Notice the two highlights (Senior Citizens Day and National Dogs Day). Highlighting special events or local festivals in advance will make sure that you don't miss to make the most of these events.
2. Social Media Calendar by Small Business Trends:
This template is based on a five-days posting schedule that uses blog posts, questions, original posts, and interesting stuff. It also mentions other activities like responding to replies and mentions.
3. Social Media Calendar by Coschedule:
You will have to subscribe to download this template and customize to fit your business needs. There's a detailed guide as well with tips on how to create an effective calendar.
4. Social Media Calendar Template by Hubspot:
This template is based on an Inbound marketing strategy and includes stuff like webinars, ebooks, blog posts, slides, and more. It's a good one for SaaS, B2B, or service based businesses given that you have the time and resources to create so much content.
5. Social Media Editorial Calendar by Marketo:
This one is based on "411" rule i.e. publish at least 4 posts which are entertaining, educational, or helpful and follow them with one soft-selling and one hard-selling post. It's not really a template but a worksheet that you can use to create your own calendar.
6. Social Media Template by JCSocialMarketing:
This one is made for non-profit organizations hence the focus on event-based posts. If you are looking for a sample schedule to manage social media profiles for a non-profit entity, this one will do the job.
7. Social Media Content Calendar by Populate:
Another worksheet that you can use to create your own calendar. Use this template if you are looking to hire a VA and you want to give them clear-cut directions.
8. Social Media Calendar by Localvox:
This calendar is more suited for local businesses. You will be posting pictures from your business, helpful tips, wisdom quotes, team photos, and announcements. Saturdays and Sundays are open to any type of post depending on your goals.
9. Social Media Editorial Calendar:
It's one of the most detailed templates in the list. What I liked the most is how it marks the special events and days of the year e.g. Christmas Eve, Father's Day, Easter, etc so you won't miss out on any of these events.
10. Social Media Content Calendar by Hallam:
Decide your target audience and the objectives and then customize this template to plan what you are going to talk about. Look at the likes, reach, visitors, and leads that you have achieved at the end of the month and plan for the next month accordingly.
11. Social Media Calendar by Business Centre:
This template will help you plan and organize your social media posts. You will be able to create/curate content with a clear objective and also use this calendar to guide or assign tasks to some virtual assistant.
12. Social Media Content Calendar by InsightPool:
If you are working as a social media manager, you can download and use this calendar to plan and implement an all-inclusive social media marketing strategy. It has logics, filters, and pre-filled formulas that will help you analyze the performance and create reports at the end of each month.
13. Calendar Template by Rignite:
Plan ahead through this template with a structure that ensures you are mixing up all types of content in your campaigns. The template saves you from going off the track.
14. Content Calendar by Hootsuite:
Use this template if you are looking to post multiple times a day and you want to invest equal time on all important platforms like Twitter, Facebook, Google Plus, LinkedIn, and Instagram. The template is available in excel, pdf, and open document formats.
15. Social Media Calendar Free Template by Insightpool:
This template has all sorts of filtering and sorting options, formulas, formatting, and a lot more to manage a fully-fledged social media campaign. It'll be a little overwhelming for small businesses but you can have a look to see what social media marketing is all about and how big brands or businesses approach social media marketing.
16. Social Media Calendar Template by Punchbug Marketing:
This template helps you keep track of your social media updates, dates, timings, text, URLs and the number of likes or comments it gets. Keeping track of all this data might take a little more time and effort but you will be able to analyze and optimize your campaign on a regular basis.
17. Social Media Content Calendar by CWS:
The template allows you to plan and organize your social media content strategy for the entire year while targeting the eight most popular platform in mind.
As you can see, there are many different approaches and templates that you can use in social media marketing.
You don't need to copy or use a verbatim template. Just go through these templates, pick ideas or strategies.
Create one of your own and don't forget to share it with us.