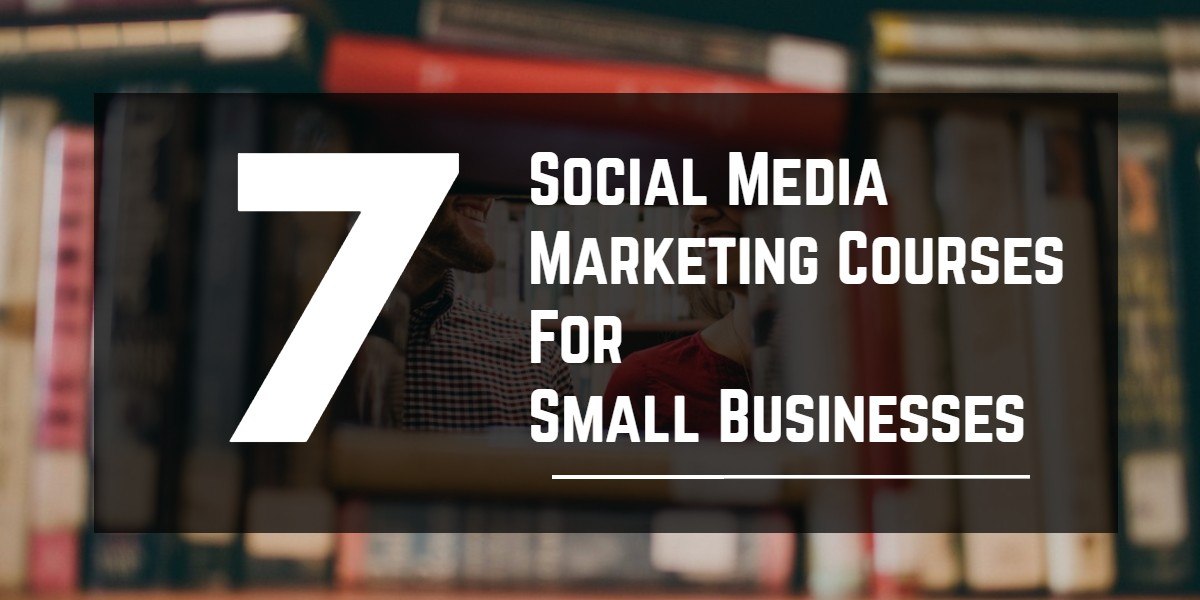 7 social media courses for small businesses
Social Media is not rocket science.
You don't need a training program or course to use platforms like Facebook, Twitter, or Instagram for your personal use.
You just need to spend a couple of hours and you will start getting a hang of things.
However, Social Media Marketing is a lot more than posting an update or following/unfollowing people.
If you are a small business and you are looking to make the most of Social Media, you must know how to create and implement effective campaigns.
You need to learn the art of social listening and social selling.
You must know the tactics and strategies that work so you will not have to waste your time on unnecessary stuff or tactics.
Social Media courses do not guarantee success for small businesses.
Instead, your success at Social Media will be determined by the time, commitment, and a persistent effort to engage with your target audience.
But Social Media courses are good for starters. If you are new to Social Media, these courses will get you started really quickly.
There are plenty of courses and certification programs offered by known universities likeSocial Media Professional Certificate by Graziadio School of Business and management, or this Mini MBA Program for aspiring Social Media Marketers by Rutgers Business school.
However, most of these certification or degree programs are quite on the expensive side (costing $3000 or more).
As a small business, you probably don't need to go for a full-fledged course or certification program. Nor do you have the time to get enrolled in a degree program.
We've tried to put together a list of Social Media courses, which are short and simple, and available for free (or a negligible price).
Let's have a look.
1. Social Media Marketing Course by Jarvis:
If you are a small business owner who just wants to learn the "ins and outs" of social media marketing in a simple and straightforward manner, you should try our no-nonsense course that consists of 6 short and simple chapters.
Head over to this page to read about the most common mistakes made by small businesses and how to avoid. It's a short one but very effective because you just need the basics to get started. Reading and consuming advanced level techniques or irrelevant information will only confuse.
Our blog is another source of practical tips and actionable information for small businesses.
2. Inbound Marketing by Hubspot:
Inbound Marketing Course is not really a Social Media course but it will teach you an important approach that will not just add to your Social Media, but overall marketing efforts.
Inbound Marketing is all about drawing customers to your website. Instead of chasing them with Advertisements and all. It's an important approach to master because users are becoming more and more ad-averse.
Ad blocking seems to be on the rise. It has grown from 21 million users in 2009 to more than 198 million users in 2015.
Inbound Marketing is a strategy built around useful Content, Social Media, and SEO. The idea is to create valuable content that will bring users to your website and convert them into customers. This course is a good source to familiarize yourself with the concept.
3. DMC Social by Google:
Google's DMC Social is a part of Google's Digital Marketing Course which is a must for all businesses starting out at Digital Marketing.
The only problem with this Social Media marketing course is that it focuses and talks about Google Plus only. However, the information and tips they've shared about the Social Landscape, Engagement, Relevance, and tracking apply on all Social Media platforms.
We will strongly recommend going through other parts as well.
4. Social Media Marketing by Alison:
Alison offers a number of free online learning programs and they've got a diploma in Social Media Marketing as well.
However, the course is a mixture of some useful and some not very useful information. Plus, there are some irrelevant or very basic-level chapters as well.
For example, Introduction to websites, affiliate marketing, and increasing website traffic, using autoresponders to build a list.
The course will be of use if you are just starting at online marketing (in which case, you are almost a decade late).
If you already know the basics, you might want to skip this one and choose the following one, which is one of the best if you are trying to learn about modern-day marketing.
5. Digital Marketing by Wharton:
EDX is one of the best sources if you are looking for some amazingly good, free and some paid (but relatively inexpensive) courses.
Digital Marketing by Wharton is an intermediate-level course that talks about the mighty important topics like navigating between online and offline landscape, new forms of interaction, reputation building, and advertising on fixed and mobile devices.
If you've got the time and money to spend on a paid course, then go for this one. Rest assured, it will be time and money well-spent.
6. Search and Social Marketing:
Search and Social Media Marketing is a comprehensive course that entails everything about online marketing including Search Engine Optimization, Blogging, Online Branding, and of course Social Media.
The only topic missing is the PPC or paid advertising.
They have separate sections for Twitter, Facebook, YouTube, LinkedIn, Google Plus, and Use of Social Media for International business development.
Each section comes with a 15 mins video and 2 – 3 activities to ensure you've got the point.
7. Social Media Marketing Specialization:
Social Media Marketing Specialization is a series of courses on the following topics (each costing $79).
What is social?
The importance of Listening
Engagement & Nurture Marketing
Content, Advertising, Social IMC
The Business of Social
Social Marketing Capstone Project
You can go through them all or choose the one that is closer to your goals and objectives.