Chrome Extensions for Social Media - The Ultimate List
The right combination of Chrome extensions can be a powerful weapon in the arsenal of the social media marketer. Extensions not only save you time, but also tie into your workflow more seamlessly so you don't need to jump in and out of a thousand apps.
We've seen a few "Top xx Extension's you need" lists popup over the years. Instead of following the crowd we've decided to make one post to rule them all. One post that contains all the extensions you'd ever be interested in using, so you can quickly skim through the post and see what your missing out on.
We'll update this list regularly to ensure the latest extension are added but also to cull any redundancies.
Chrome Extensions for Social Media – The Ultimate List
The more of a successful social media manager you are, the more social media accounts you're probably managing. In comes Lastpass to save the day. This must be one of the handiest extensions out there. You set one "Master Password" that unlocks the extension to generate passwords and automatically log you in to any of your linked accounts.
The added ability to also be able to share your account logins with other LastPass users alone makes this one invaluable tool. The Jarvis team uses two-factor authentication for our account, just to make extra sure our password treasure chest is super secure.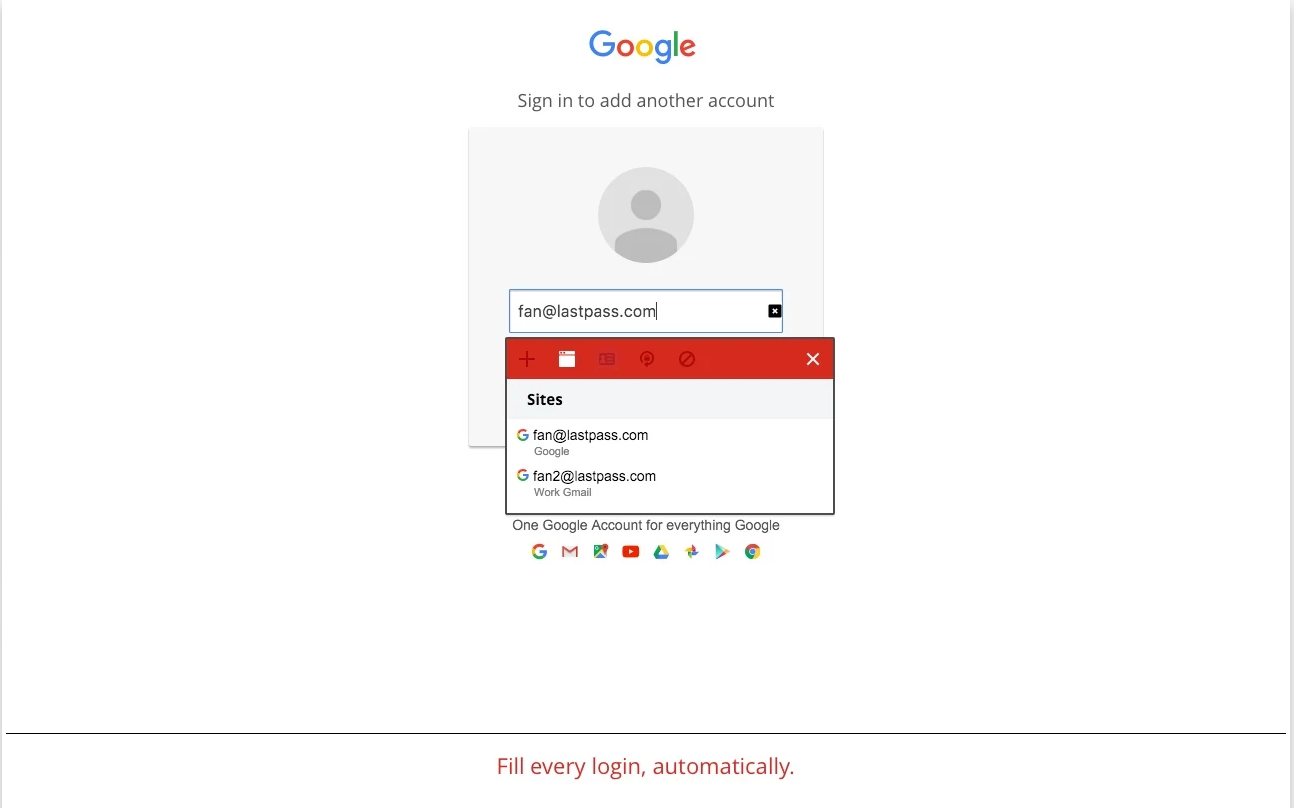 We're pretty sure the fact that your reading this means you primarily use Chrome, and then it's safe to say you find yourself with several tabs open. OneTab helps you organise your tabs, by archiving them into a single page which frees up space while still letting you go back to your tabs whenever you need them.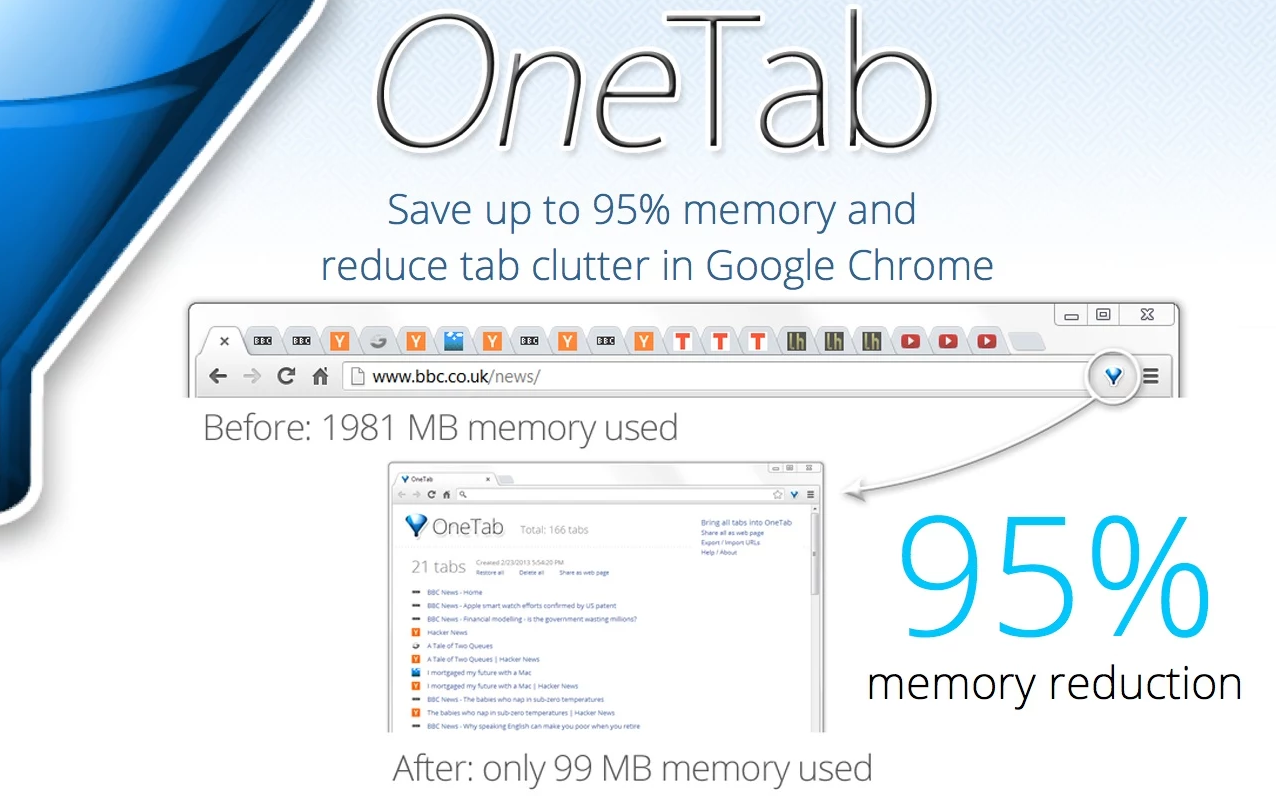 Twitter, Pinterest, Google+ and Tumblr all support GIFs and they are fantastic for engagement. The Giphy extension is a neat little drop down, with a keyword search bar. There's awesome gives for pretty much anything these days, making it an easy way to make any piece of content just a little bit cooler.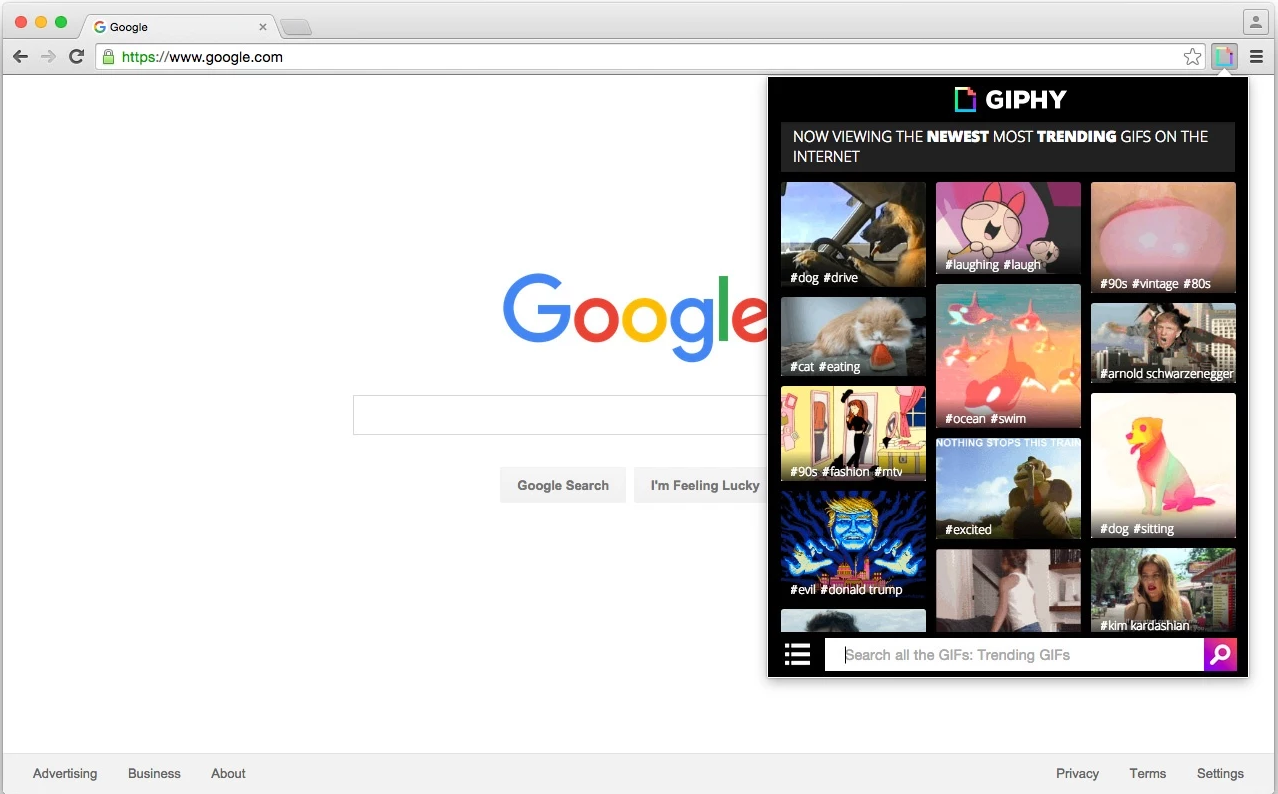 Instagram just brought out some major updates for non-app web browsing. We still tend to enjoy using the Instagram extension more. It's essentially the same as the mobile experience, but in your browser, with added filtering options too. We've found our efficiency for Instagram marketing to be much higher while using this, instead of the mobile app.
Bitly lets you make easy trackable hyperlinks, and by adding the extension you won't need to head over to Bit.ly anymore. The extension allows you to make customisable links in no time, with quick to reach social sharing buttons. Then there's the awesome tracking statistics showing you clicks per minute and even a setting that will notify you once a set amount of clicks have been made. We use this tool all the time.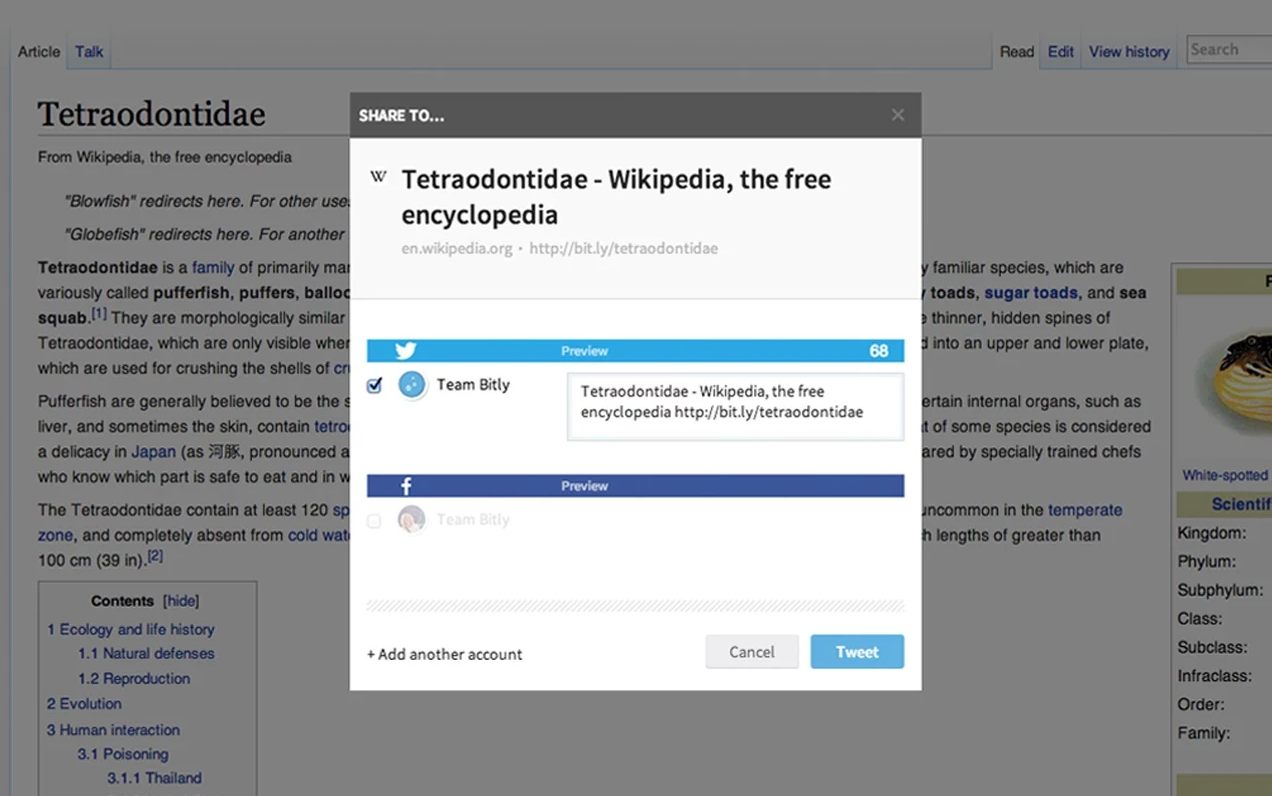 With just one click you can save a newly discovered piece of content that is viewable offline, without ads. Pocket is great for saving you time, and keeping all your cool finds in one space.
Nifty little tool that put's a little "p" for Pinterest logo at the top of your browser that helps to remind you to pin anything cool you see. Hovering over an image will also bring up the logo, which lets you pin the image instantly. Descriptions are also editable.
So it seems everyone loves to hate on Google+, but there's still a fair amount of people using it. The App for Google+ extension is a perfect tool that's easy to use and means you don't even need to get onto Google+ at all to be able to reach your audience.
Riffle is the ultimate companion to any serious Twitter user. Browse over someone's Twitter profile then click Riffle and out pops a magnificent little pane with all kinds of valuable information regarding the user of the profile. All their connected social media profiles will appear as well as handy Twitter related stats such as Retweets/Tweet and Favourites/Tweet as well as their most used hashtags and their top mentions. We've found this really handy to quickly figure out whether a Twitter profile is legit or not.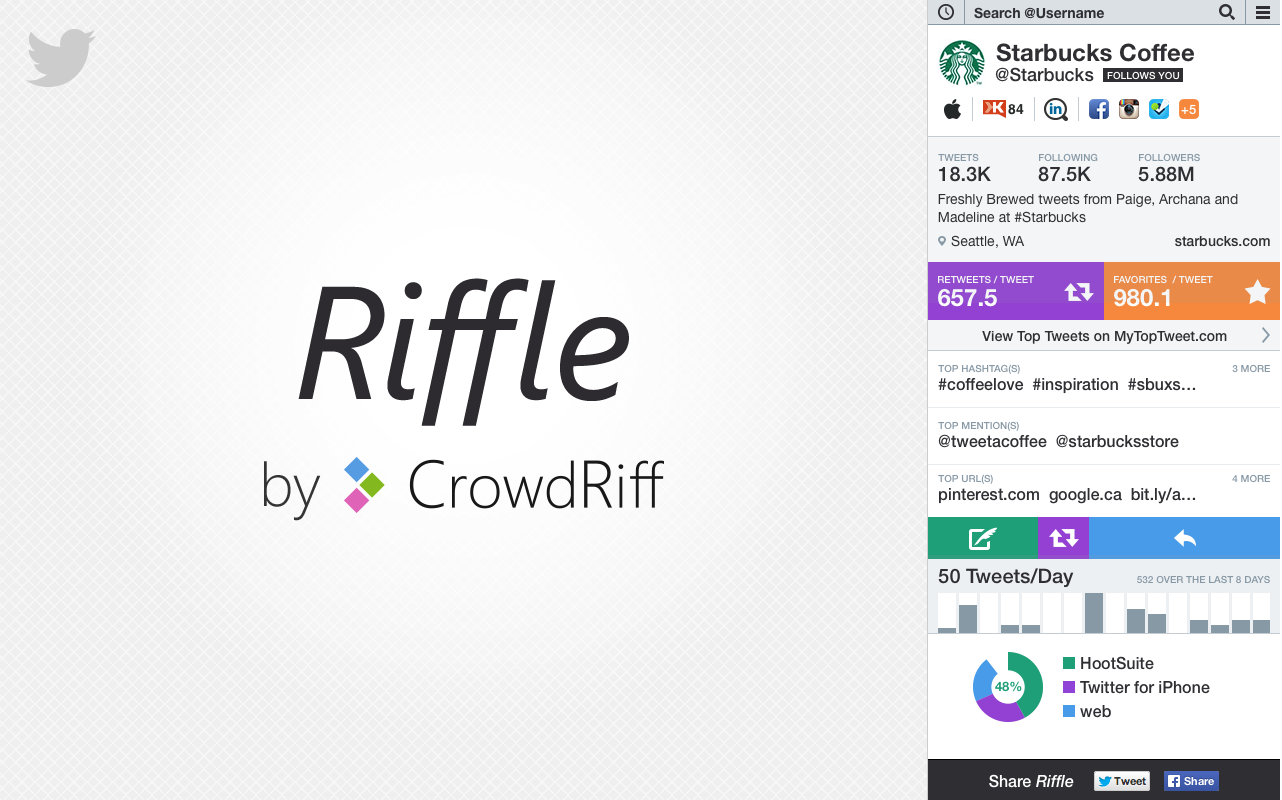 A substantial portion of your visitors will all be on different kinds of mobile devices. With window resizer it's easy to quickly check what your social media updates will look like when viewed in many different resolutions.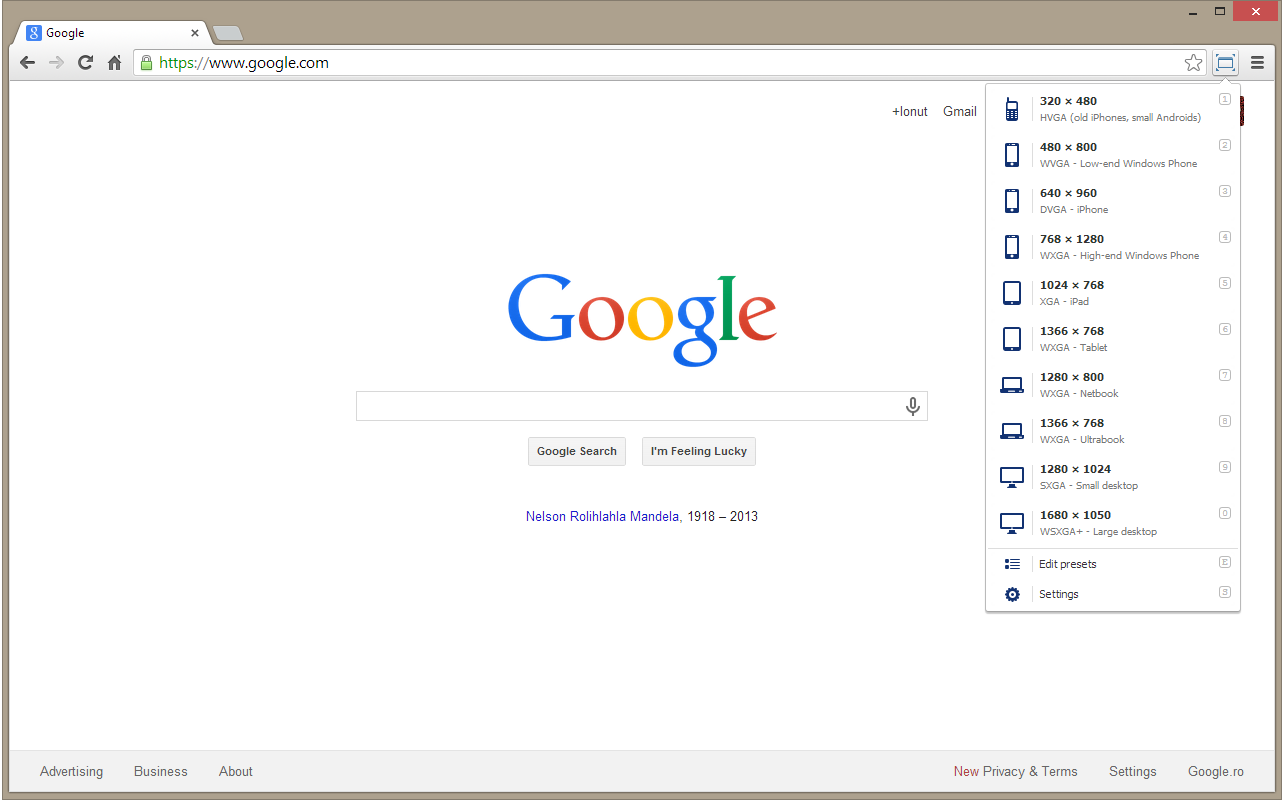 Ritetag – Hashtag Management
If you've been in the social media scene for a while we're pretty sure your hashtag game is strong. In case you're not feeling that confident, there's the Ritetag extension. Ritetag pops right into your Twitter post editor and gives you an indication of your "Chance of discovery" for each hashtag you use. If you spend much time on Twitter, and we're sure you do, this is something we'd recommend you always check before posting.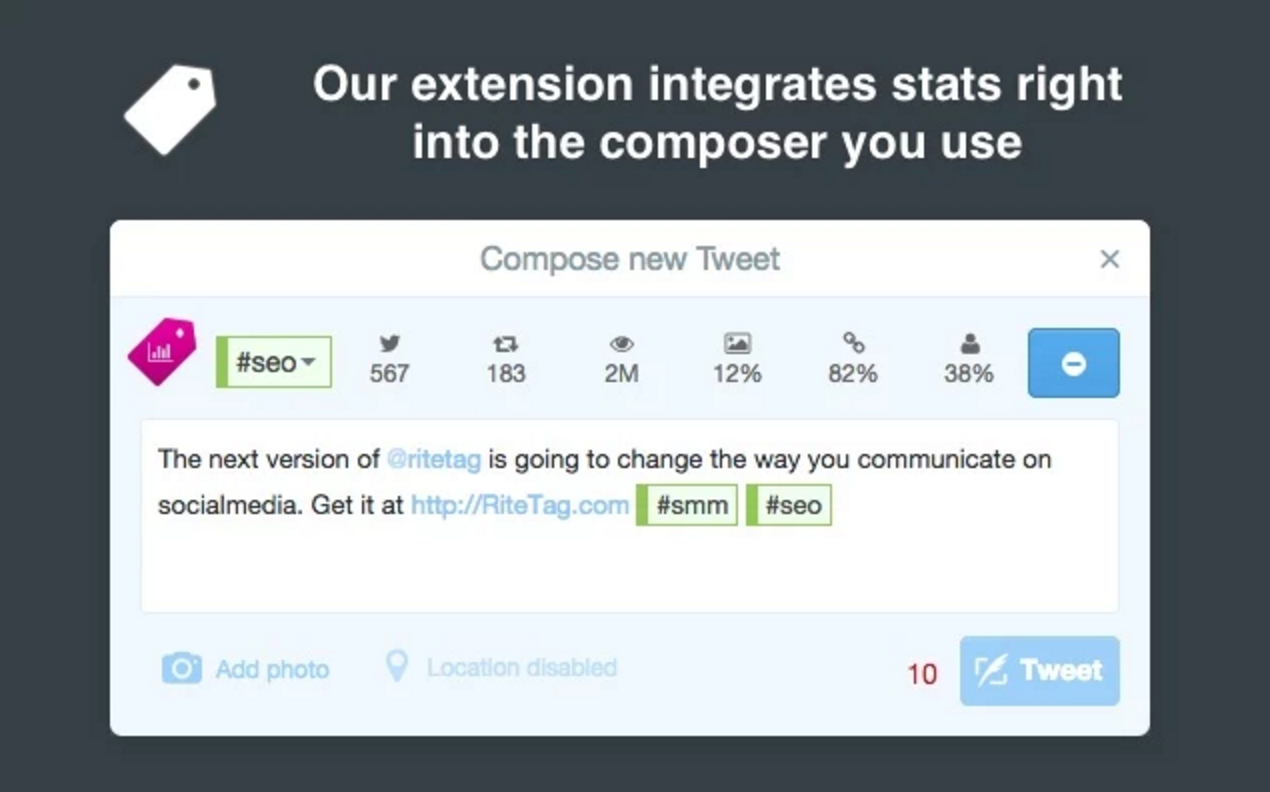 Buzzsumo – Social Media Engagement
If you haven't heard of Buzzsumo by now, we're not sure how big of a rock you've been living under. The chrome extension of Buzzsumo gives you a nice little snapshot into the social engagement levels of the article you're visiting. If you want more info what's the most shared post on the website, there's a button for that too. We absolutely love Buzzsumo!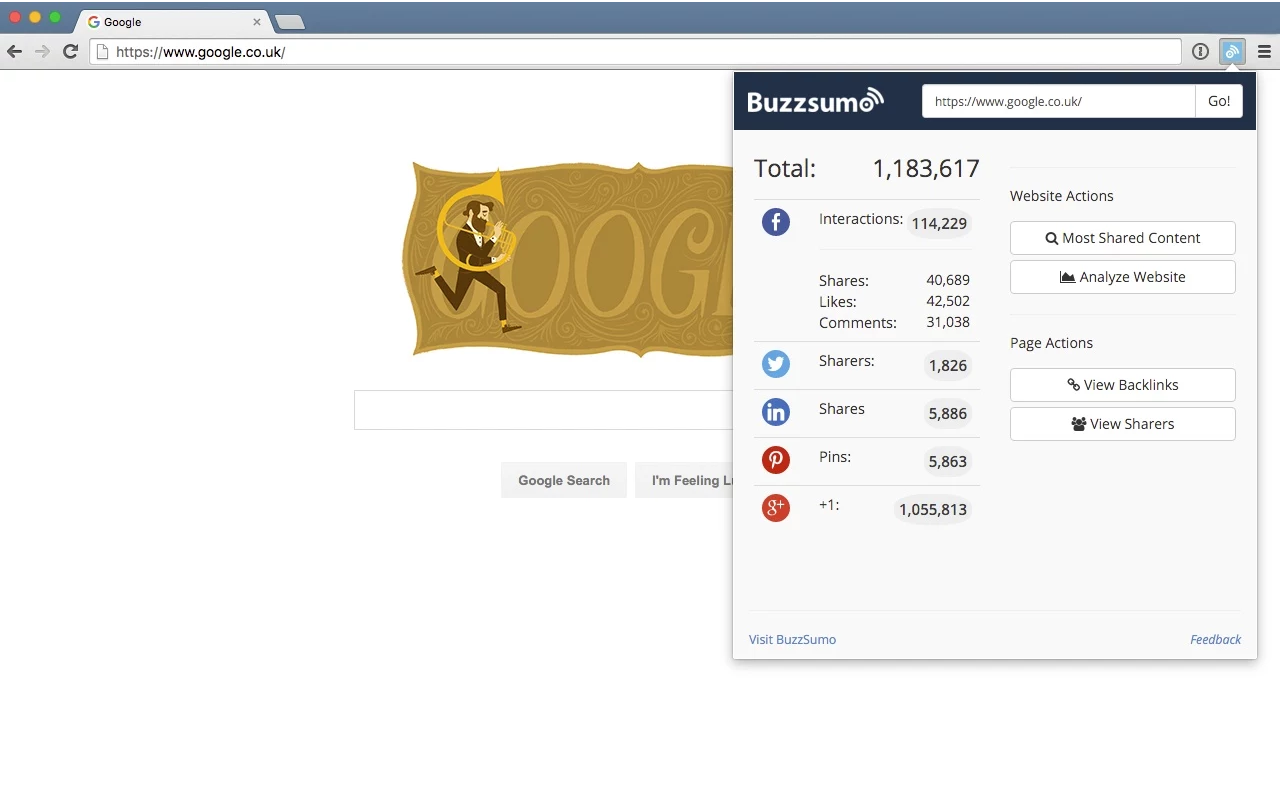 Spending too much time on Twitter.com can quickly drain your productivity. This tool is a perfect companion for the avid Twitterer and social media marketer as it lets you do basically everything you'd want to do on twitter, without having to go to Twitter.com to do it.
Silverbird Plus – Twitter notification manager
Silverbird is a little similar to Easy Twitter, but one awesome differentiator is the customisable badge that shows you how many notifications you've received. This makes it easy for you to stay up to date with all your notifications, without having to keep a tab open or have push notifications setup on your phone. When you click on the badge a pop-up appears that gives you the ability to post a tweet, have a quick look at your feed or your mentions.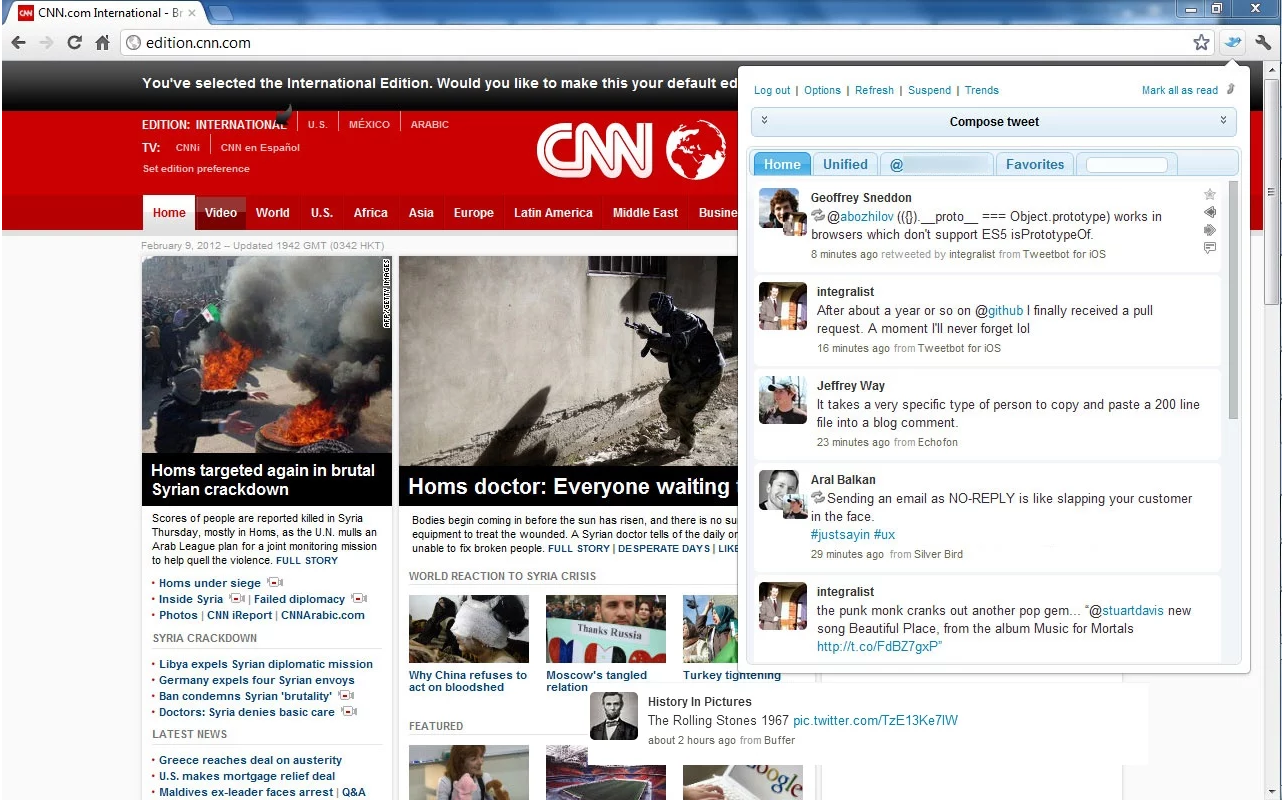 Once all your work is done, Logout 4 All lets you logout of all your social media profiles with the single click of their little red button. You can also set it to wipe your cache and search history in case you are the slightly paranoid type.
Reddit likes to follow the mantra of KISS (keep it simple stupid), but for those of us that want to add a little custom features to get a bit more out of it there's the Reddit Enhancement Suite extension.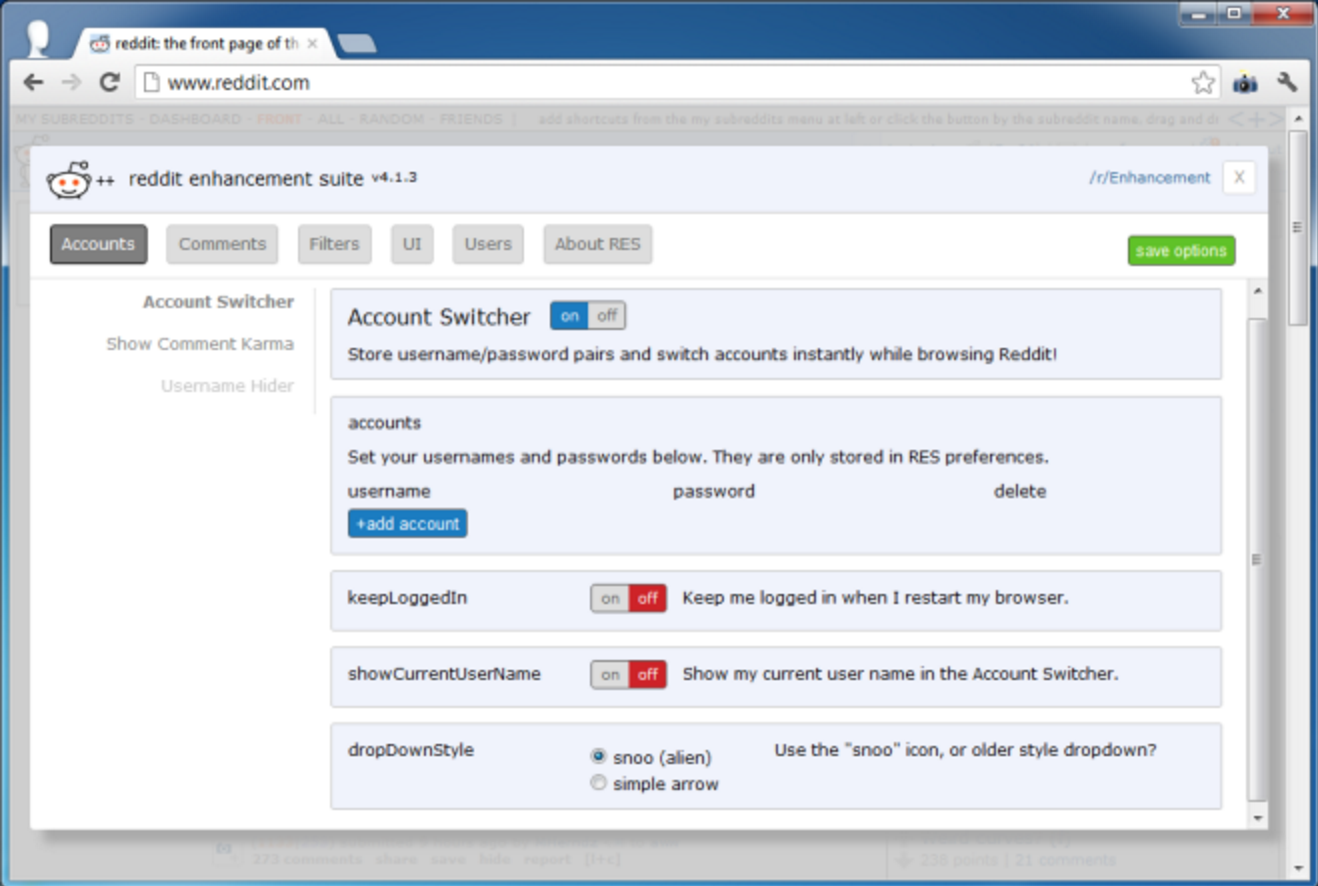 Some features include:
"Never ending Reddit" – next pages automatically load and get stitched to the bottom of every page
User tagger
"Uppers and Downers" – See all hidden votes
Keyboard navigation
Account switcher
Inline image viewer
Tumblr has become a "curation" platform, and we have yet to find an easier solution to accomplish just that than with this extension. Tumbl any article your on with just a click, or select text in the article and it will share it as a quote. The extension also gives you easy access to all of your Tumblogs. The easiest way we've found to use the extension is not by using the button but rather just right clicking in a post we'd like to share.
Even though Microsoft One Note has been praised as an Evernote killer, at the Jarvis team we keep old school with Evernote. One of the main reasons why we're sticking to Evernote is the epicness that is the web clipper extension. It's kinda similar to Pocket, in that it saves the content of articles you come across, but keeping all our notes and articles in one central location is what we're really after here.
If you're an avid Evernote user and you aren't using the web clipper, you're missing out for sure.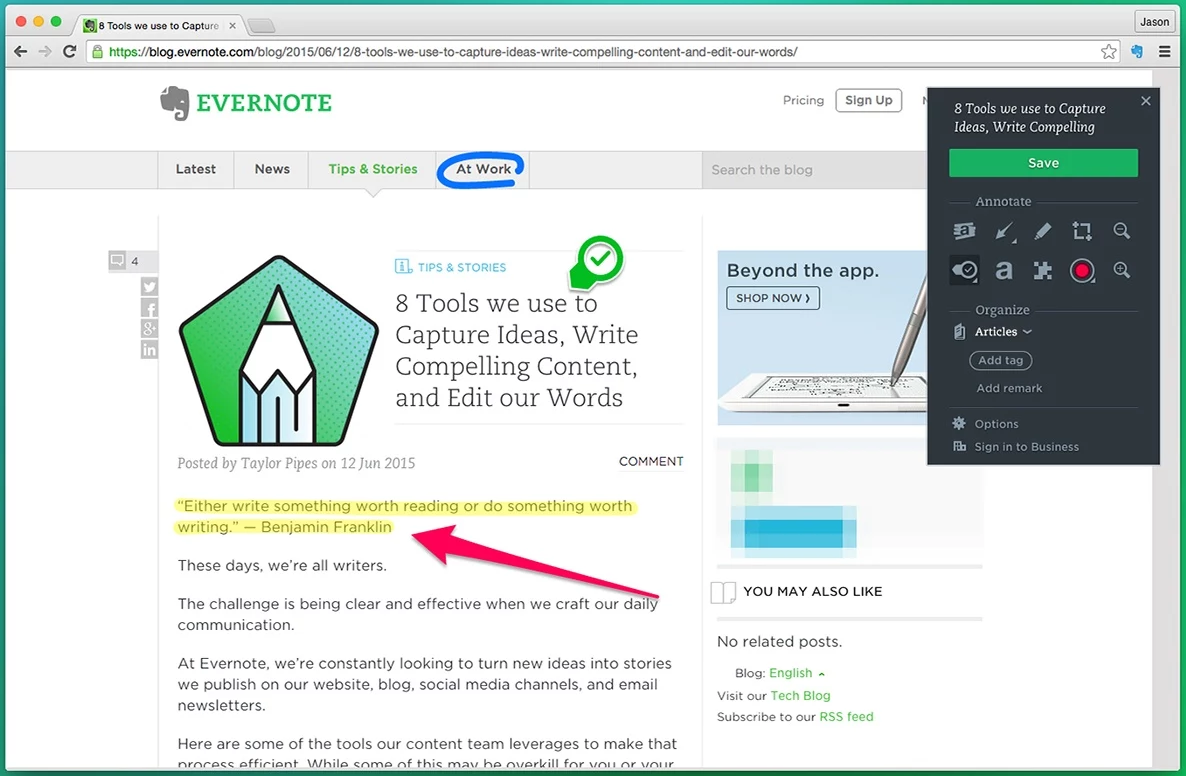 Feedly seems to be the leader of the RSS world after Google Reader got discontinued. The Feedly mini extension goes hand in hand with their service, making it effortless to add any new website your own to your Feedly feed.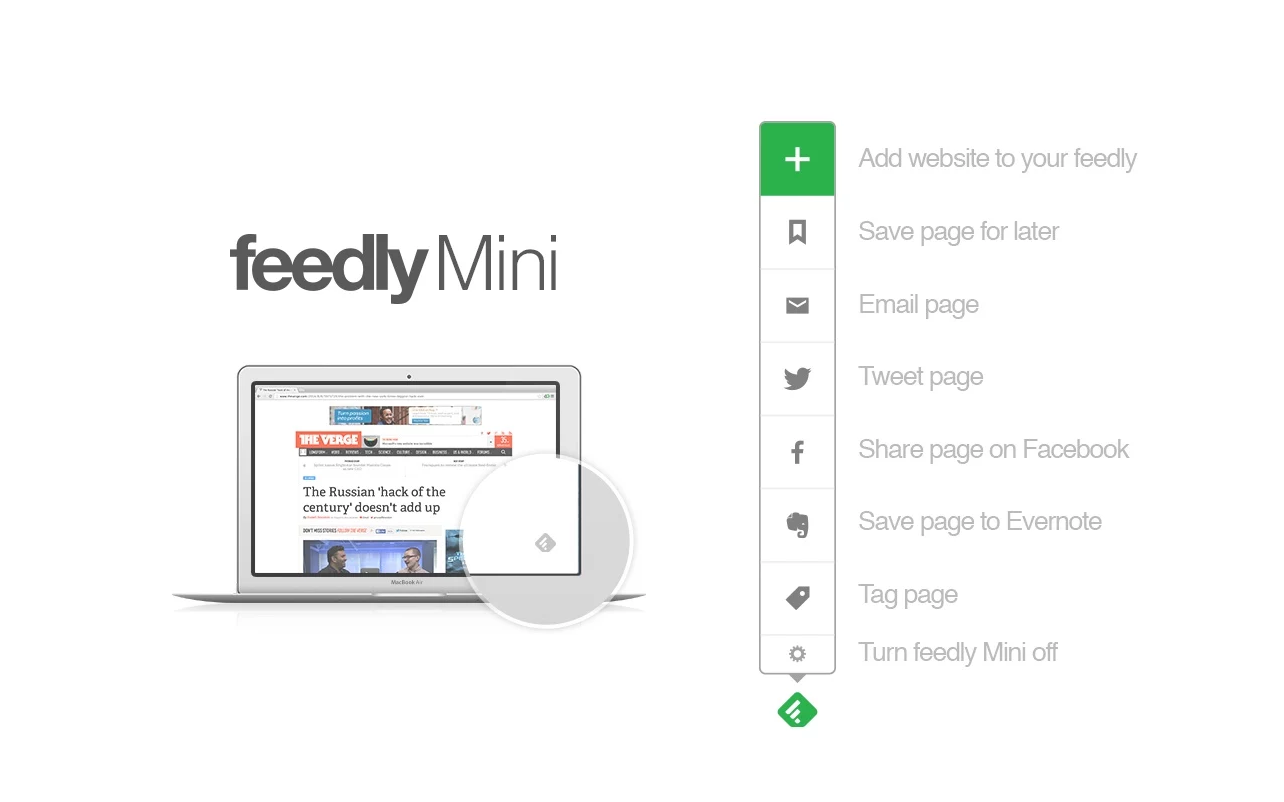 Getting the colors of a website or banner exactly right is important, and the easiest way to do that is by getting the hexadecimal color codes that can easily be put into any design software such as Photoshop. With the Color picker extension this process becomes one click, activate the tool then click on any color you see on a website and it the extension translates it into the six digit code you need.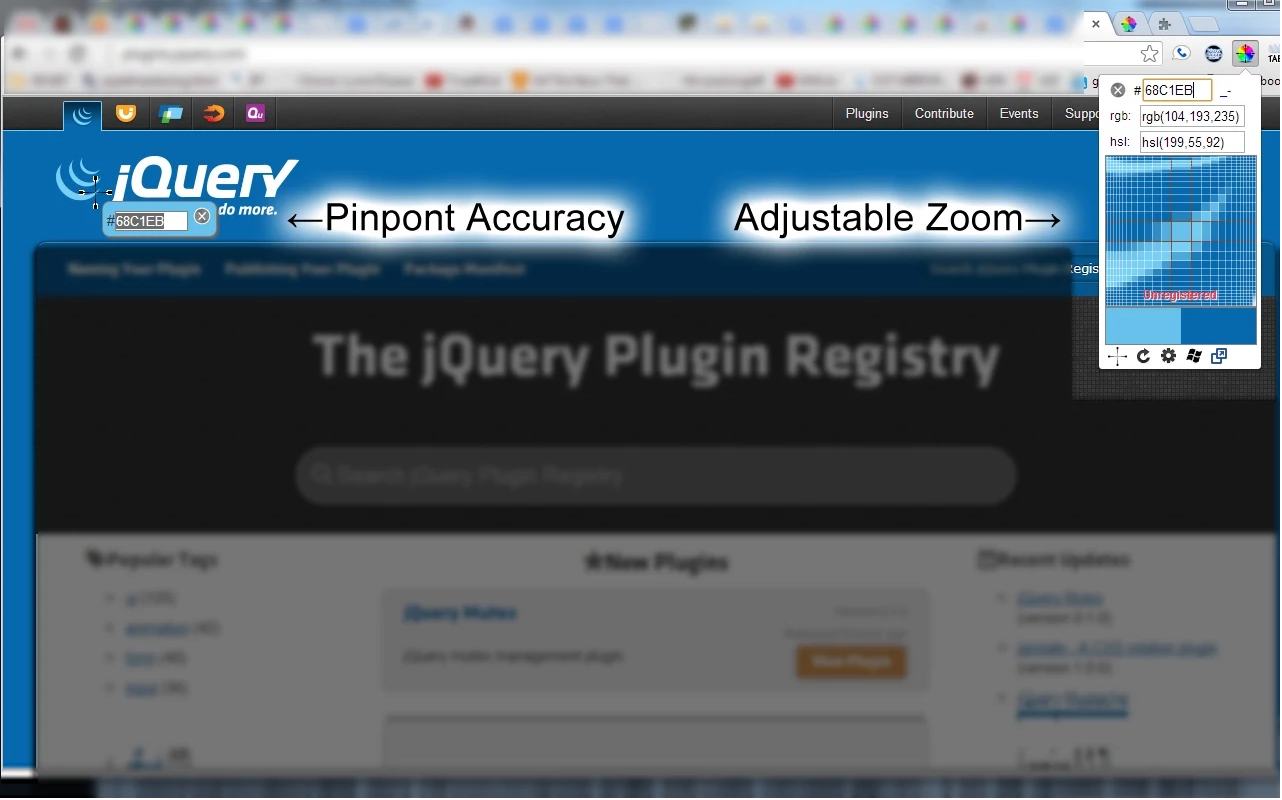 Extensity – Extension Manager
So as you can see, we love extensions. The only problem with extensions is that they can quickly use up your computer's resources like RAM and CPU power. An easy solution for this is Extensity, which is an extension to control your other extensions. Using this tool, it's easy to turn on the extension you need, while turning off those you aren't currently using to save valuable resources.
Goodbits – Newsletter Management
Goodbits is an easy to use tool that lets you setup email newsletters for your website using a drag and drop process. The extension allows you to save any content you've found to your library that can later be added to your newsletter without much of a fuss.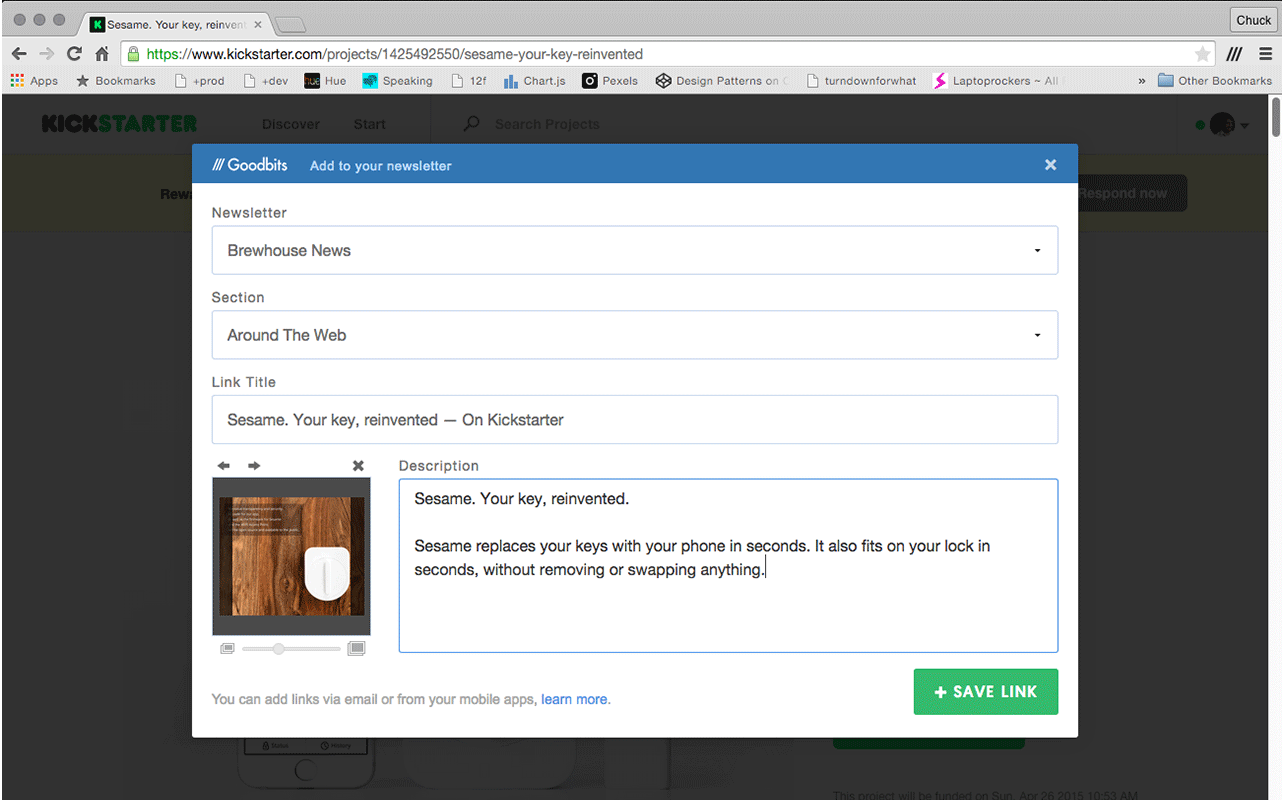 Anyone's Facebook Newsfeed, with autoplaying videos and algorithm's pushing all the best cat videos to the top, has become a highly distracting place where an hour of your life can quickly disappear to. Panda is an extension that replaces your newsfeed with a feed of the latest articles on a host of websites including Hacker News, Producthunt, The Verge and more. By replacing your newsfeed with these media sites you kill two birds with one stone, by not being sucked into endless viral videos and also not having to go onto your favourite tech media sites in a separate tab anymore.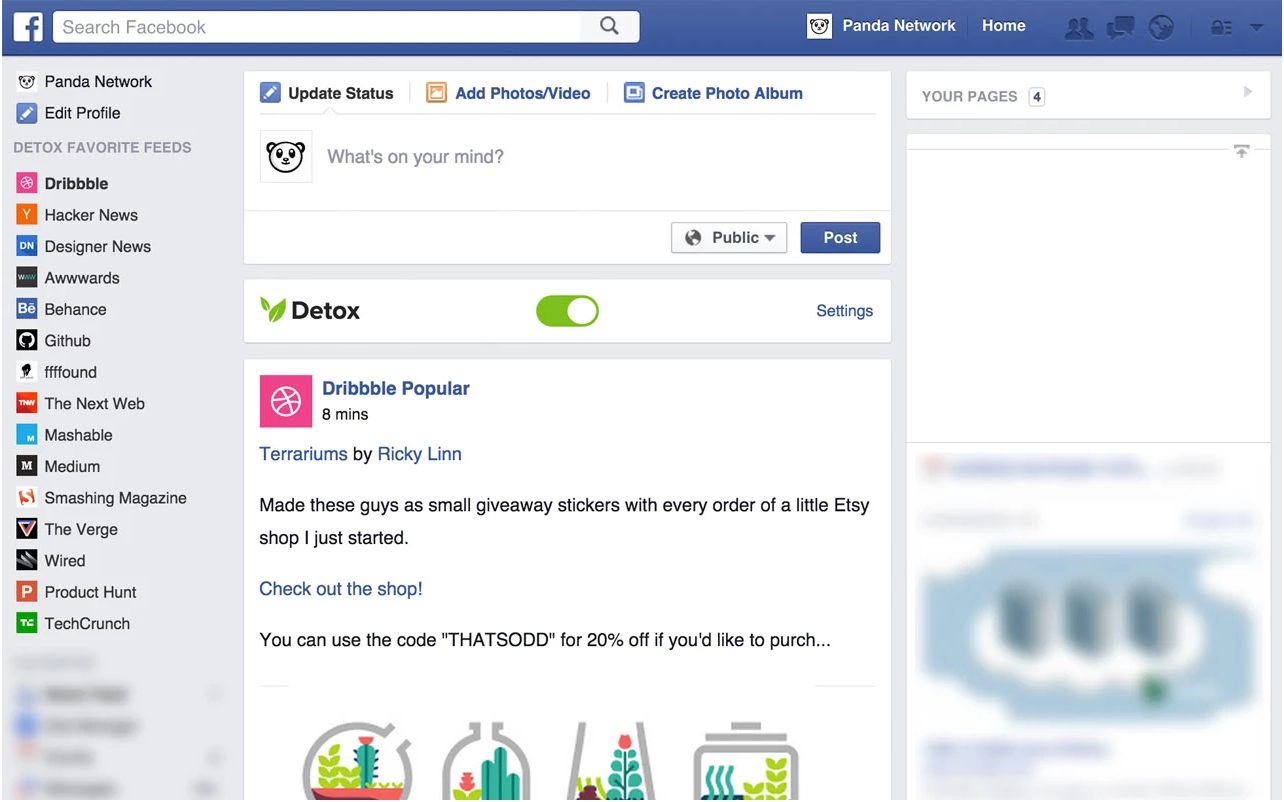 Snip.ly – Attach a call to action to every link you share
Sharing content that isn't on your own website can help keep your visitors engaged, but you still end up sending you're valuable followers to someone else's website. Snip.ly helps with this by hosting that content on their own website in an iframe which then makes it possible to add your own custom call to action popup that can drive viewers back to your own website. It can be a little hard to mentally grasp how this works, for those still confused best to head over to their website and see the demonstration.
If you're using Snip.ly then the extension becomes a really easy way to do almost everything the webapp does.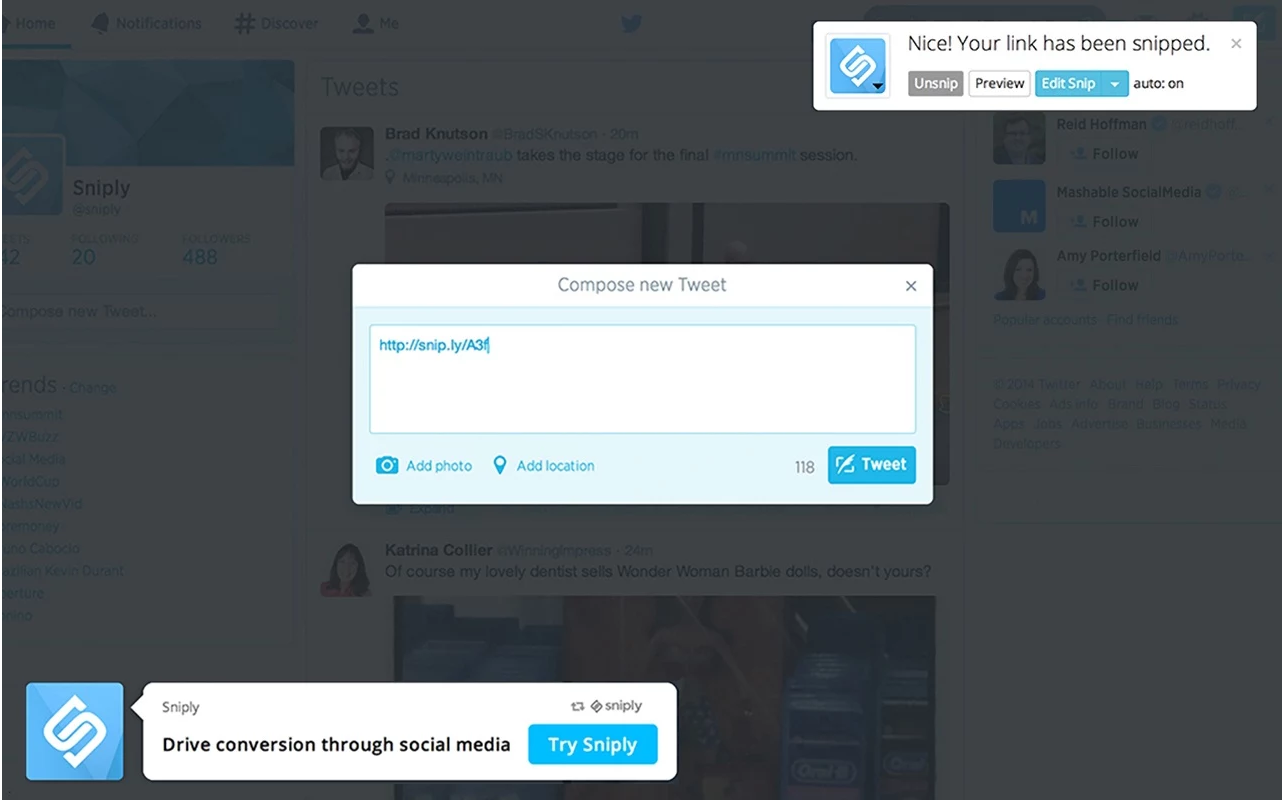 Web boost – Loading Speed Optimizer
No one likes websites taking ages to load, so the team at Web Boost have developed this neat little Chrome extension that actually helps websites load faster and also blocks annoying ads. "What is this wizardry?", you might be thinking. They basically use fancy CDN optimisation coding to help sites load faster than usually. We're still kind of confused, but it works.
Quite often Twitter can be a better place to search for news regarding something compared to Google. The Hashplug extension ads Twitter results to Google search pages to give you more thorough results.
TL;DR – Summary Generator
TL;DR saves you time by giving you a pop-in summary of the article you're busy browsing. You can choose between four different lengths for the summary. We use this quite often and it's a great alternative to skimming an article.
Stencil – Image Editor
Good images are important for social media marketers, and once of the easiest tools we've found that comes in Chrome extension format is Stencil. Easily turn a quote you've found on a webpage into an image by using the 600,000+ stock images they have, or add text and other features to an already existing image you've found on a website.
Discoverly – Social Media Discovery
Discoverly is handy for networking because it gives in-depth insights into a whole host of someone's social media profiles. You can pull this information by visiting just one of their Facebook, Linkeding, Gmail or Twitter accounts. We've found it to be quite a handy tool to quickly figure out if someone is real or not, and also to get in touch with people who aren't always easy to get a hold of.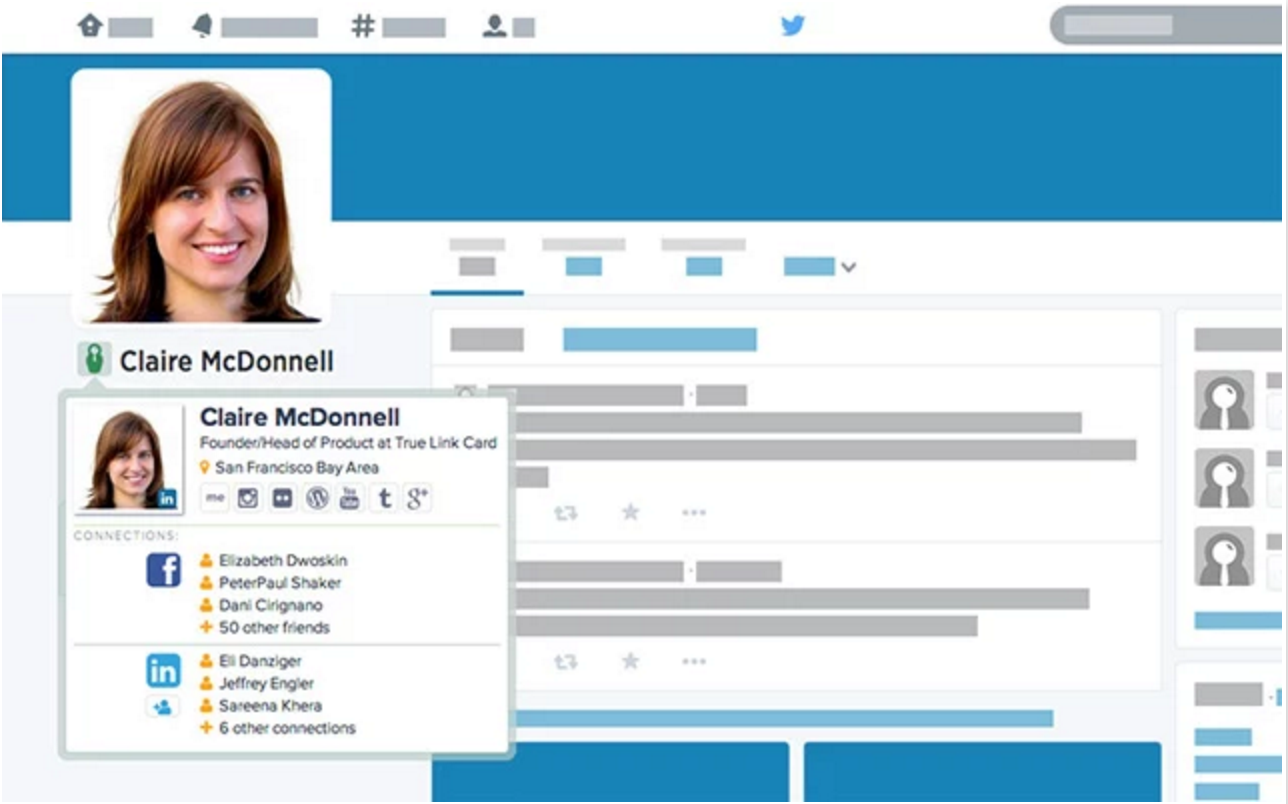 The Mozbar is the ultimate SEO extension. This tool allows you to tap into the vast features that Moz provides, such as:
– Access important SEO metrics at a glance as you surf the web.
– Create custom searches by search engine, country, and region or city.
– See how difficult it is to rank for a given keyword.
– Expose page elements with the Analyze Page overlay.
– Preview and validate authorship, schema.org, and other markup inside the browser.
– View social metrics for Facebook, Twitter, and Google+.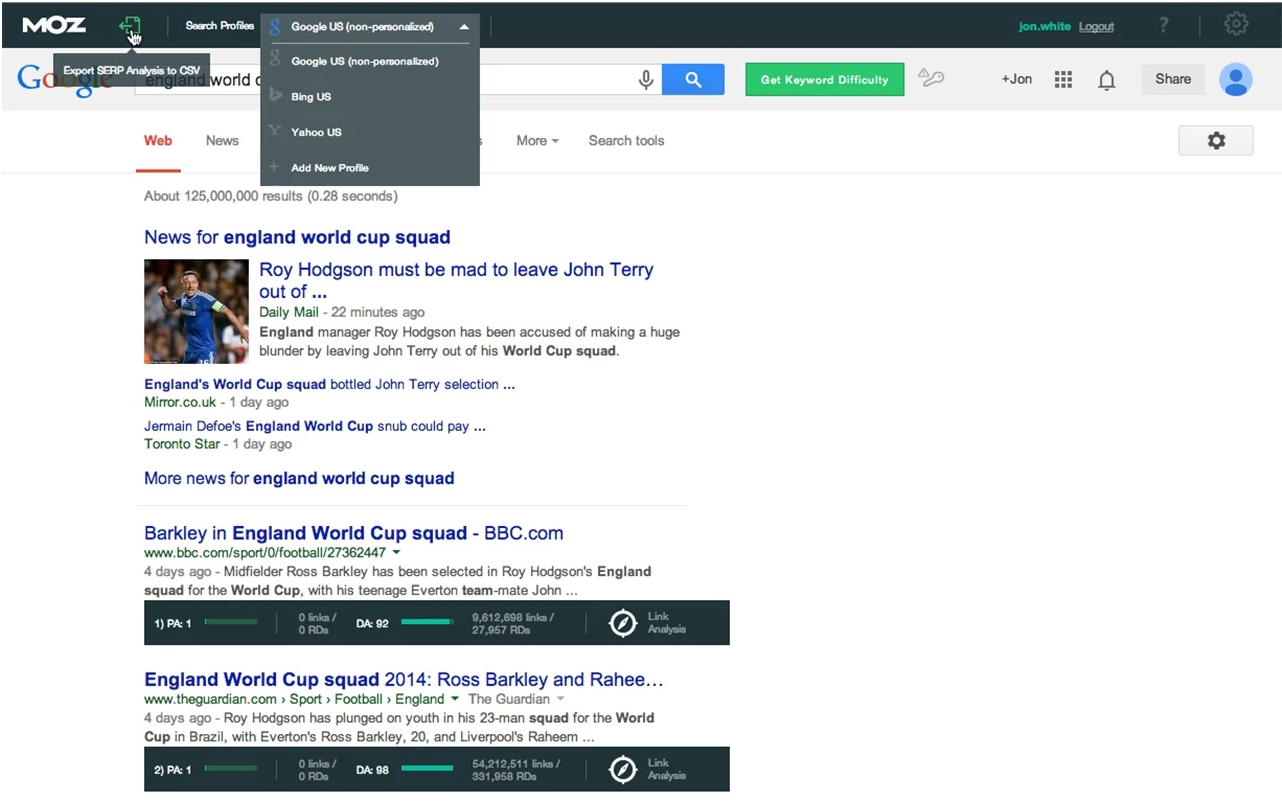 Such a simple tool, yet surprisingly useful. Click the check my links badge and it will check your article or any other webpage for any broken links. It's a quick and easy way to make sure your visitors aren't being sent to the wrong place.
The Page Analytics extension works with Google Analytics to give you an in-site view of how your visitors are interacting with your website. It indicates which links are being clicked and how often which when seen overlaid over your website gives you an almost heatmap type of effect.
From time to time the need might come up for you to remotely share your screen with someone else, and the most effective tool we've found for this is the Chrome remote desktop extension. It's quite an effortless process as it works with your Google account, so no need to install any other software or register any other accounts.